CSR actions for your Team Building activities
More and more companies are interested in learning more about Corporate Social Responsibility actions and how they can implement them. The reason is clear: introducing CSR activities in the right way brings multiple benefits to the company, society and the environment.
By carrying out CSR actions together with Team Building activities in the company, you will do your bit by helping those who need it most or by contributing to the preservation of natural environments, as well as doing something you can be proud of as a team, something that will unite you even more and that you will remember forever.
The main thing when implementing responsible actions in your experiences or activities is that there is a real and coherent ethical commitment to the chosen cause. By doing so, the team will enjoy an unforgettable experience in which teamwork, cooperation, empathy and solidarity and sustainable actions will prevail.
Nowadays, such initiatives are not just a trend, but rather have become a key factor in business management. Organisations that care about sustainability, the environment, social causes and human rights improve their corporate image and are more competitive.
Examples of Corporate Social Responsibility actions for companies
Below we would like to inform you about the kind of CSR actions you could implement in your company's or organisation's Team Building activities, as well as some examples of specific activities that we have carried out at Creativando with the aim of having a positive impact on employees, social welfare or the natural environment.
Charity actions: donations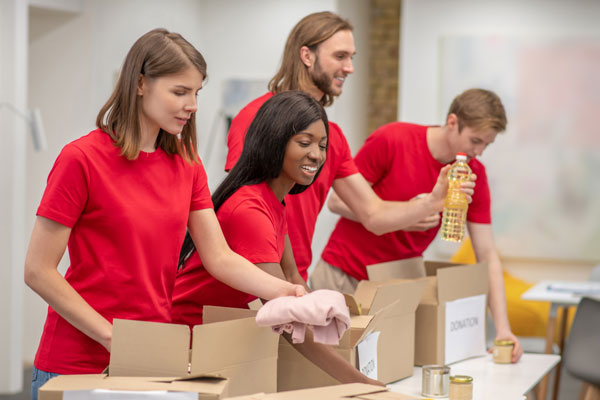 Fun and supportive Team Building activities can be carried out in collaboration with all kinds of groups or associations in two ways:
By collecting food or materials. At this charity chain, they invested in school supplies and snack packs for the Red Cross to help disadvantaged children. As it was a surprise activity, it had a "wow" factor that the company's employees will never forget.
Making financial contributions to NGO projects, foundations and other associations. At this charity 4×4 event, as well as donating material to children at risk of exclusion, we also donated money to a greyhound shelter.
Another way of collaborating is by donating company goods that are no longer of use and that could be used to donate to a group or organisation for which these products are useful. You can donate goods such as:
Products that become obsolete and are replaced by other products, such as computers (screens, keyboards or mice) or telephones.
Returns of items that are still safe and serviceable.
Sustainable challenges
Another goal you can set for yourself as a company with this type of activity are sustainability challenges, for example:
Reuse of materials. To help avoid wasting resources, we can carry out activities where you have to build, for example, rafts, catapults, or even your own vehicle. With this type of initiative, we will encourage your team to develop creative and teamwork skills, whilst also carrying out a sustainable activity.
Waste collection and recycling. Some volunteer activities aimed at these goals could be looking after and cleaning up beaches, rivers or forests and then recycling this waste. Looking after our natural environment (seas, oceans, rivers, vegetation…) is everyone's job, but not everyone looks after the environment around them in the same way. This is a good way of doing your bit as a company to keep natural spaces clean.
Planting trees. Reforestation is another way of helping nature and the environment and leaving your own ecological footprint. Trees fight pollution and climate change: why not help plant more so they can continue to do so?
Companies are increasingly aware of both the benefits of Team Building and the advantages of carrying out Corporate Social Responsibility actions. When you combine activities in which teamwork and CSR actions go hand in hand, the result is a comprehensive business initiative that benefits both the company's employees and society and the environment.
We hope these examples have inspired you and awakened your desire to implement small actions that can lead to big changes. Our event management company is very enthusiastic about designing charity projects such as these in collaboration with different entities with the aim of encouraging teamwork and collaborating for worthwhile causes.
Would you like to enjoy a team building activity while contributing to a social or environmental cause? At Creativando we organise activities and events that have this added value that companies seek nowadays. Contact us and discover what we can offer you.